23:14
Mexico to sign vaccine deal with Pfizer on Wednesday
22:19
Japan's approach to tackling the coronavirus pandemic has become the country's buzzword for 2020. "Sanmitsu" – known in English as the "three Cs" – was one of several words and phrases inspired by the virus to have made it onto this year's shortlist.
Popularised by the Tokyo governor, Yuriko Koike, sanmitsu refers to three situations the government has encouraged people to avoid to prevent the transmission of Covid-19: confined spaces, crowded places and close-contact settings.
The approach was adopted early on in the pandemic and has been credited with keeping cases and deaths in Japan comparatively low.
Koike, whose enthusiasm for the three Cs inspired an online game, received the buzzword award from the contest's organiser, the publishing house Jiyukokuminsha, in an online ceremony.
The top 10 candidates included "Abenomask" – a reference to the much-derided face coveringsdistributed to every household earlier this year, when Shinzo Abe was prime minister.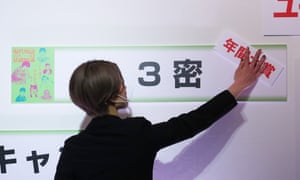 The Go To travel campaign also made the top 10 amid criticism that the heavily subsidised tourism programme has helped spread the virus since it was launched in July to prop up regional economies during the pandemic.
On Tuesday, Koike and Japan's prime minister, Yoshihide Suga, agreed that people over 64 and those with underlying health conditions should be discouraged from using the scheme.
Other popular words included Amabie, a mythical sea monster that wards off disease, and Demon Slayer, a manga and animated film that is on course to become Japan's biggest-grossing movie of all time.
With more people forced to entertain themselves at home, it was no surprise that the popular video game Animal Crossing: New Horizons and the hit South Korean drama Crash Landing On You also made the shortlist.
20:28
In more Australian economy news:
Australia's housing market could potentially surpass pre-Covid levels by early 2021 as housing prices continue to rise across the country.
Experts now believe that if the virus remains under control in Australia, prices will no longer decline by 10% to 20%, as initially forecast.
Building on gains made in October, CoreLogic has now recorded a 0.8% rise in dwelling values in November. The recovery comes after a pandemic-influenced 2.1% drop in housing prices between April and September.
If the growth trend persists, Tim Lawless, CoreLogic's head of research, thinks the national home value index will surpass pre-Covid levels in early 2021:
19:52
Australian economy grows 3.3% in September quarter
The Australian economy rose 3.3% in the September quarter, the latest national accounts reveal.
The national accounts, released by the Australian Bureau of Statistics just now, shows that rise in seasonally adjusted chain volume measures, after a 7% fall in the June quarter.
That 7% fall was the biggest fall ever seen since records began in 1959 in Australia.
Through the year, the ABS said, GDP fell 3.8%.
It also said terms of trade rose 0.7%, and the household saving ratio decreased slightly.
Updated

19:34
In the US, a government panel on Tuesday formally recommended early doses of Covid-19 vaccines be given first to healthcare workers and long-term care facility residents in the US, generally seen as people who live in nursing homes and assisted living facilities.
Together, that group would represent roughly 23 million Americans, disproportionately including women, people of color and low-wage workers who makeup the healthcare labor force.
The recommendation from the panel at the Center for Disease Control and Prevention (CDC) hinges on a vaccine being approved for emergency use by the US Food and Drug Administration and later recommended by the advisory panel:
19:08
In England, the government has announced details of the new three tier system that will come into effect in when the four-week national lockdown across the country ends on 2 December.
Non-essential shops in all areas can reopen, as can gyms, hairdressers and other personal care businesses, with the formal instruction to stay at home coming to an end. The "rule of six" will again apply for outdoor gatherings in all areas.
Places of worship will be able to open and weddings will be allowed within local restrictions.
The system has been criticised in parliament by Labour leader Keir Starmer, saying that introducing a three-tier system without an effective test and trace system is a "major risk".
The hospitality industry has also warned the stricter system of tiers will "ruin Christmas" for struggling restaurants, hotels and pubs: