Tokyo recorded its biggest daily increase in Covid-19 cases on Sunday, as authorities identified large infection clusters in and around the capital.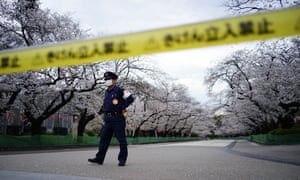 The additional 68 cases brings Tokyo's total to 430 – by far the highest among Japan's 47 prefectures. The newly identified infections included 27 at a hospital where 96 people are now known to have been infected.
In addition, 88 cases have been found among staff and residents at a facility for people with intellectual disabilities in Chiba prefecture, east of the capital.
The outbreak has infected more than 1,800 people in Japan, with 55 deaths as of Sunday afternoon, excluding 712 cases and 10 deaths from the Diamond Princess cruise ship, which was quarantined in Yokohama last month.
The virus claimed its first high-profile victim, with public broadcaster NHK reporting on Monday that Ken Shimura, a 70-year-old veteran comedian and TV personality, had died on Sunday after being hospitalised earlier this month.
A recent spike in cases in Tokyo, including those with no known source of infection, has raised speculation that the prime minister, Shinzo Abe, is considering declaring a three-week state of emergency from Wednesday – a measure that would enable the governors of affected prefectures to instruct residents not to leave their homes except to shop for food and to receive medical care.
The governor of Tokyo, Yuriko Koike, last week requested Tokyo's 14 million residents to stay indoors over the weekend, while the governors of neighbouring areas also asked people to avoid nonessential travel into the capital over the same period. Koike has also asked people to avoid large gatherings, including cherry blossom-viewing parties, and to refrain from eating out in the evening until at least 12 April.
She said Tokyo was facing an "important phase in preventing an explosive rise in the number of infections".