03:19
Julie Palmer, partner at business advisory and restructuring firm Begbies Traynor, says:



The success of Greggs has been the envy of the high street in recent years, however, even the bakery chain hasn't been immune to the impact of Covid-19 which has forced its stores to close and eaten away at its top line.

For Greggs, achieving rent reductions from landlords will be first on the tick list, and indeed this has been a priority for many on the high street. But once these costs have been reduced its push to return to success will begin. And given its track record of marketing & PR success with its famous vegan sausage roll, I wouldn't be surprised to see another high profile campaign on the horizon that captures the sentiment of a nation experiencing seismic change.
03:17
Let's have a look at today's corporate news. Greggs, Britain's biggest bakery chain (known for its vegan sausage roll) has warned that sales won't get back to pre-pandemic levels for as long as physical distancing continues.
But it's fared better than other retailers: sales are now running at 72% of the 2019 level. All of its 2,050 stores reopened by July, after being forced to close during the Covid-19 lockdown imposed on 23 March. Greggs made a £65.2m loss before tax in the first half, compared with a £36.7m profit a year ago.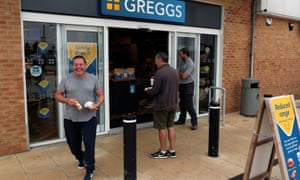 Updated

03:05
And we're off. UK and European shares have edged higher at the open.
UK's FTSE 10 up 0.2%
Germany's Dax up 0.4%
France's CAC down 0.2%
Spain's Ibex up 0.3%
Italy's FTSE MiB up 0.08%
02:56
Last night Spain's prime minister, Pedro Sanchez, criticised the UK's decision to impose a 14-day quarantine on travellers entering the UK from Spain – a popular destination for UK holidaymakers. He pointed out that much of the country had a lower infection rate than the UK.
According to the Daily Telegraph, the UK government is planning to cut quarantine periods for travellers arriving in the UK from 14 days to 10 if they test negative for coronavirus. You can read more on our UK live blog:
02:46
Introduction: Europe to open higher
Good morning, and welcome to our rolling coverage of the world economy, the financial markets, and business.
Gold has continued its rally amid fears of a second Covid-19 wave and mounting US-China tensions. Regarded as a safe-haven investment in times of turmoil, the precious metal blasted to $1,980 an ounce, a fresh record high and not far off the $2,000 an ounce level. Is now hovering around $1,940 an ounce as some investors have cashed in their gains.
The dollar has bounced back a bit after hitting two-year lows yesterday, ahead of the US Federal Reserve meeting that begins later today and wraps up tomorrow. The Fed is expected to reaffirm its super-easy policies, and might signal its willingness to tolerate higher inflation in the long run which would allow it to keep interest rates low for longer. Against a basket of currencies, the dollar rose 0.2% to 93.918 after touching a two-year low of 93.492.
European stock markets are expected to open higher after finishing in the red yesterday. Wall Street has fared better, thanks to the popularity of tech stocks such as Apple, Facebook, Twitter and Google parent Alphabet, which will report results later this week. Asian stock markets traded flat to positive.
Ipek Ozkardeskaya, senior analyst at Swissquote Bank, says:



It is hard to predict the short-term market direction in such choppy conditions. Hope for more monetary and fiscal stimulus keep investors on track for buying equities, however, the company fundamentals and the economic situation don't improve at the desired speed.

This means that the country and company debts are exploding without a concrete positive impact on businesses and economies. And as we move forward, the margin for more stimulus tightens. When and how this would impact the market sentiment is yet to be seen.
It's another light day on the economic data front. Spain's unemployment rate is expected to rise to around 16.7 from 14.4%. The country has been hard hit by Covid-19 and the UK's decision to take it off the safe-country list at the weekend has dealt it a big blow, as tourism will suffer.
The Agenda
8am BST: Spain unemployment rate (forecast: 16.7%)
3pm BST: US consumer confidence (forecast: 94.5)
Updated