03:21
News just in from Severin Carrell, our Scotland editor, that the Scottish National party is to hold a deputy leadership election at Westminster after its current deputy, Kirsty Blackman, stood down citing the pressures of lockdown on her mental health.
Blackman, the MP for Aberdeen North who was reprimanded by Commons officials for bringing her baby into a committee meeting in 2016, and criticised the lack of child-friendly working at Westminster, said she wanted to focus on her family and constituency work.
"Like many others, I've struggled with the impact that lockdown has had on my mental health," she said.
There has been some speculation Blackman was considering running for Holyrood in the 2021 elections.
03:19
The environment will finally get a look-in at Westminster today too: Shadow Energy Secretary Ed Miliband has stood firm on the 2019 manifesto pledge on carbon emission, meaning Labour is committed to reaching a "substantial majority" of UK. decarbonization by 2030 at the last election. Campaigners, however, were concerned by reports that new leader Keir Starmer might rethink the plan. But on a call with more than 150 activists from the Labour for a Green New Deal campaign last night, Miliband said: "I don't resile one iota from the manifesto." He said the pledge was "completely right on the ambition we need over the next decade," and added: "I'm not in this job to scale back on ambition."
03:18
So. Putting glitz and glamour firmly put back in its box, let's look at what's happening in Westminster today.
The under-fire Housing Secretary (he's facing accusations of making an unlawful decision to help a Conservative donor dodge a multimillion-pound tax bill), Robert Jenrick, will address the Local Government Association conference this afternoon at an online event
He'll be grilled by councillors at a Q&A – expect questions about the upcoming changes to planning laws (as well as why Jenrick failed to listen to the objections of councillors over the controversial Westferry development.)
Perhaps worth noting is that an announcement on local government funding is expected today. Jenrick has a written statement listed on the Commons order paper.
03:13
I'm struggling to get some cheery glitz and glamour into today's live blog – we all like a bit of glamour – but my best effort is a letter penned by Paul McCartney, who has joined 1,500 other artists, including the Rolling Stones and Iron Maiden, to urge Oliver Dowden to step in and help support a music business battered by the pandemic, after festival season was cancelled. The BBC has a write-up. Dowden tweeted a response last night. Penpals in the making, perhaps? One of the perks of being culture secretary.
Updated

03:09
In what is hardly a break for good news, it might nevertheless be worth stepping back from this morning's breaking news for just a moment to flag a damning scoop from Channel 4 last night, which revealed the Department of Health issued safety warnings and orders to frontline staff to bin tens of thousands of protective masks and respirators that were deemed unsafe.
03:08
Something else that isn't happening – at least any more – is a tweet from the Treasury that invited Brits to "grab a drink and raise a glass" when pubs open on Saturday. Forced to delete it last night, a screenshot has ensured the department can be still be roundly criticised for the tweet amid fears of alcohol-fueled carnage at the weekend. TV arguments man Piers Morgan was among those expressing outrage.
If you missed it, here's the tweet: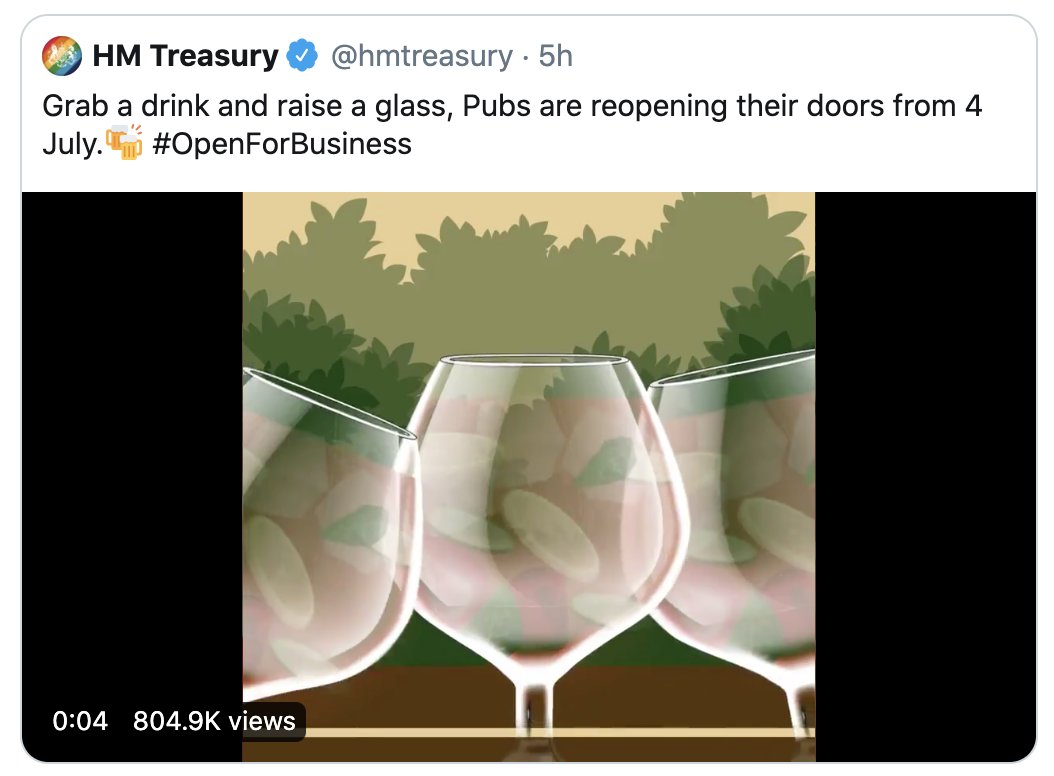 Updated

03:06
Air bridge announcement delayed
Now. Before we turn to else is happening today, let's look at what isn't happening.
What isn't happening is the announcement on travel corridors, which is now set for Friday. The Times reckons around 95 countries will be on the final list — which is half of the entire world. That, alongside the BBC failing to find a single police force which has issued a quarantine fine, suggests former Transport Minister Theresa Villiers might be right when she says the whole thing wasn't worth the damage to the industry. Transport Secretary Grant Shapps will take questions in the Commons at 9.30 am, so watch this space for more on that.
Updated

03:02
Something else the report shows is that in Leicester, new infections are concentrated in a few areas and focussed among children and working-age people. It points out that the "evidence for the scale of the outbreak is limited and may, in part, be artificially related to growth in availability of testing."
02:57
So. Looking at local lockdowns – the other issue dominating the news today. The government last night slipped out the "rapid investigation team" report. It's the motherlode of data that informed the decision to impose further measures in Leicester.
Interestingly enough, the report isn't all doom and gloom. Less so, actually, than the news reports suggest. A table of the local authorities with the highest infection rates shows Leicester with 135.7 new infections per 100,000 people in the seven days to June 27, compared with 6.7 for England as a whole. The rate had decreased from the previous week but not very much. That's not ideal, obviously – hence the the Leicester lockdown – but what's interesting is that the other local authorities on the list had much lower infection rates: the next highest local authority on the list is Bradford, with 42.8 new infections per 100,000 people. In contrast to Leicester, their rates had almost all dropped by more than 10% compared with the previous week. Doncaster and Bolton are the exception to that trend: their rates had risen 10% – albeit, it's worth noting, from relatively low levels.
The Telegraph, the only paper to clearly frame the report as showing progress, quotes former Tory leader Iain Duncan Smith branding it "very good news."
02:52
Other papers note that the government will be hoping the headlines today focus on schools – and not on unemployment and local lockdowns. It's already fighting what might turn out to be a losing battle on that front: the papers this morning aren't exactly holding back, with the Express screaming "VIRUS HOTSPOTS ON THE BRINK OF LOCKDOWN" on its front page and the Metro reporting, in its own splash, that the UK could be "days away" from further local restrictions.
There's also a lot of fake information going around to combat too, as the BBC reports. But what isn't fake news is polling for the ITV Peston show by JL Partners, which found three-quarters of people believe there will be a second lockdown this year – and more people would blame the public for a second coronavirus wave than the government's handling of the crisis.
02:46
But if children do see themselves back at home, the government is going to have to up its game regarding home learning: it has already missed its target of sending out 230,000 laptops to the kids most in need of equipment. And it's not plain sailing for schools who have received the computers: The Times reports that some schools have received the devices but have not been given the passwords to access them. "It's been a shambles of the highest order — whilst the department for education fumbles the digital divide grows by the day," an academy trust leader said.
02:43
But the Mail goes on, it does look like the government will have to do all it can to ensure schools stay open after criticism for getting pubs and zoos up and running again first. It carries bullish quotes from a 'Cabinet source' who says that: "even if the R number is up near one, I think people are clear that schools have to reopen," the source said. "That might mean something else closing in order to keep the overall risk at an acceptable level, but schools will reopen."
02:41
The Mail, however, is uncharacteristically cautious – warning that all this school stuff is just speculation until the final document is actually published in August. That will depend on how the pandemic is looking at that point. Schools, the paper says, could find that everything said this morning is just words, words, words – carelessly cast to the wind when push comes to shove. I believe it has happened before…
02:32
Still on schools: assemblies will be banned and teachers are being told to prepare for an increase in bad behaviour from kids unnerved by the change in routine. Officials were last night playing down claims that the curriculum could be restricted, as has been reported in recent days.
02:29
According to the latest reports in the Telegraph, schools will have to close if just two pupils get the virus – although hopefully the year group 'bubbles' will lessen the chance of that happening. Today's government guidance will include orders to improve online learning so a full curriculum can be taught if pupils are sent home temporarily due to a local outbreak. Schools will also see health protection teams waiting on the sidelines, poised to sweep in to conduct mass testing if case numbers look concerning.
02:25
And then this afternoon, Gavin Williamson – who is having a busy day – will be back to host an ad-hoc Downing Street press conference. It's the first since the daily update was ditched over a week ago, so hopes are high for an equally thrilling second series.
02:23
Agenda for the day
There's a lot of coronavirus news coming up today, starting with the expectation that the government will tell schools in England to overhaul the curriculum, stagger break times and group children into "bubbles" when they return to the classroom in September.
At 9.30am, the Office for National Statistics will release data on its coronavirus infection survey, economic impact and housing indicators. A Test and Trace update expected late morning.
At 11.30am, the Education Secretary Gavin Williamson will give that speech on the autumn opening of education settings.
At 12.30am, the Royal Society of Medicine will discuss the impact of Covid-19 on the elderly.
Moving on to this afternoon, at 2pm Public Health England will publish its coroanvirus surveillance report on cases up to 28 June – and at the same time, the Joint Human Rights committee will launch its report into the life of children whose mothers are in prison during coronavirus.
In Scotland, the Scottish Affairs committee will report on the impact of lockdown at 2.30pm.
Updated

02:07
Good morning. This is Amelia Hill unveiling the news for this morning.
Our top story is that China has hit back at Boris Johnson's pledge to honour a promise of the right to settle in the UK to nearly 3 million Hong Kong residents who hold British national (overseas) status. Beijing's ambassador in London vowed his country would take "corresponding measures" to stop such a move
Big job cuts hit the high street – The full force of the pandemic seems to be emerging as huge job cuts hit major high-street retailers. More than 6,000 were lost on Wednesday, bringing the total this week to at least 10,000. The latest casualties will include workers at Arcadia group, SSP, Harrods and John Lewis.
The news comes as the International Monetary Fund's chief economist said the UK should should prioritise spending on green projects to create jobs and kickstart the economic recovery. Gita Gopinath said mounting unemployment would require swift action to prevent lasting damage. The Treasury seemed to regret its push to get people to spend in pubs, when it deleted a tweet calling on patrons to "raise a glass" when doors reopen on Saturday in England. Critics said it was in poor taste, given the 43,000 deaths during caused by the pandemic. A&E doctors pleaded with revellers not to '"get plastered" on so-called "Super Saturday", as the NHS is already overstretched. Police will step up patrols and also urged patrons to drink responsibly.
Abroad, and the US has recorded another daily high in cases, this time 52,000 for Wednesday, according to Johns Hopkins figures. It came after Donald Trump told Fox Business he still believed the virus would disappear, adding: "And I think we're going to have a vaccine very soon too." California ordered the closure of restaurants, bars and indoor venues.
There's more in our Coronavirus Extra section further down … and here's where you can find all our coverage of the outbreak – from breaking news to factchecks and advice.